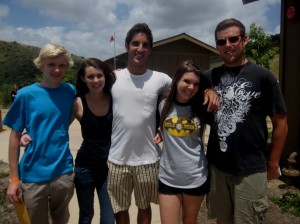 Rotary Youth Leadership Awards (RYLA) is all about Rotarians working with youth in leadership development. It is an intensive training/experiential program for 180 high school students in their pivotal junior year, who are chosen for their proven or potential leadership abilities. Students participate in an all-expense paid camp held in Idyllwild Pines, California, for three days. The camp is run by RYLA Alumni and student attendance is sponsored by Rotary Clubs from throughout District 5320. Attendance is free for qualified high school Juniors. Students are joined by talented young people from communities throughout the district. RYLA provides a memorable opportunity to learn, grow, have fun, make new friends, and gain a new and improved focus.
What Does RYLA Offer?
The core curriculum for RYLA includes the following:
What Rotary is and what it does for the local and international community
Importance of communication skills in effective leadership
Fundamentals of leadership
Ethics of positive leadership
Building self-confidence and self-esteem
Problem-solving and conflict-management
Elements of Community and Global Citizenship
What Should I Expect?
Camp RYLA combines speaker programs, and team problem-solving sessions, with cooperative games, and competitions in a diverse environment for young people across the 5320 district. All camp activities are designed with the objective of providing an atmosphere where campers will experience learning situations to help develop their own unique strengths and abilities to become future leaders.
What is the structure of camp?
Each camper is assigned to a 'Family', groups of 10 kids with 2 Rotarian leaders (1 male and 1 female) 'Parents'. These groups are the vehicles used to process the day's events, build teamwork, and integrate the positive examples of leadership, ethical behavior and constructive group dynamics.
What is the Boojum Institute?
Camp RYLA 5320 has the extreme honor of hosting the impressive multi-element high ropes and low ropes Boojum Institute. Complete with a huge expert staff, the individual families, through experiential learning, learn the importance of planning, perspectives, and trust in problem solving and accomplishing goals. You can read more about the Boojum Institute here.
What is Rotary?
Rotary is a worldwide organization of business and professional leaders that provides humanitarian service, encourages high ethical standards in all vocations, and helps build goodwill and peace in the world. Approximately 1.2 million Rotarians belong to more than 33,000 clubs in more than 200 countries and geographical areas.
read more about Rotary…